Search Engine Optimisation (SEO) is the process of making specific changes to your website to rank well in the search results. This is sometimes called organic search or natural search. Google uses over 200 SEO ranking factors in their search engine algorithm. To make things more exciting, Google is constantly updating their algorithm to make a better user experience. That's not all. Not everyone agrees with the significance of each factor, or if even if they matter at all. Where am I heading with all of this? 
12 Top SEO Ranking Factors
In this article, I am going to provide you with the Top SEO Ranking Factors that make the biggest impact on your search results. This is based on my 20 years of SEO Experience. Shall we? Let's begin.
1. Identify and Implement Relevant Keywords
Identifying keywords (also known as Keyword Research) is a critical SEO Ranking Factor – To identify keywords, begin by thinking like your target audience. Ask yourself, what would your target audience type in the search engines to find your product or services? Put together a list of valuable keywords for your business. This is the foundation for your SEO Strategy.
There are some awesome tools out there that will help you. If you want to keep it free (yes, one of my favorite words) and easy, I recommend you use the Google Trends. 
Then Implement Keywords – Once you have the list of keywords that are important to your business, then you produce specific pages with content that targets the keywords for your business and services. 
  If you want help with your Keyword Research, check out our SEO Services. 
2. Optimize Meta Tags - Title Tag & Description Tag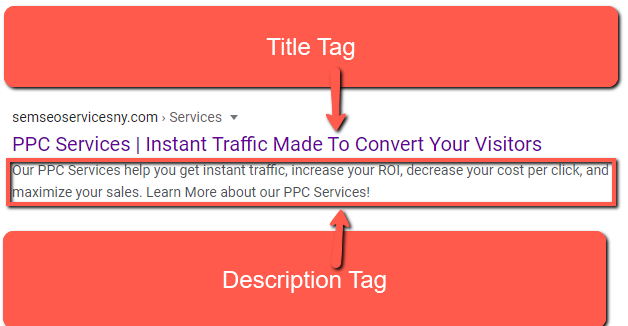 The most important meta tags are the Title Tag and the Description Tag. Title Tags is the most important SEO Ranking Factors. These tags are visible on the search engine results listings page.
In this example, we are optimizing for the key phrase "PPC Services"
The SEO Meta Title Tag should be 60 characters or less and should include the key phrase you are targeting. In this example, you will find that the keyword "PPC Services" is in the title tag. Also notice that we have included a key benefit "Instant traffic made to convert visitors"
The SEO Meta Description Tag should be between 120 – 160 characters and should also include the key phrase you are targeting. The Description tag should entice the user to click on the link so it is critical you include a call to action. In this example you will find the key phrase "PPC Services" and also see the call to action "Learn More".
This is important as 40% of all clicks go to the top three results shown on results pages. There have also been studies to demonstrate that page 1 listings get more than 85% of all clicks. The Title Tag and Description Tag have a direct impact on your Click Through Rate (CTR).
Search engines have gotten extremely clever in how they analyze sites and how they determine the top-ranking sites.
They want to make sure that the search results that they are presenting to their users are of the highest quality. If your website is appearing on the top page of the search results, it shows your audience that your site is user-friendly, trustworthy, and has high-quality content.
3. Have Great Quality Content
Content quality is another important SEO ranking factors you must pay attention to. Search engines want to provide the best results for searchers. They give top ranking for the sites that have well researched and quality content. This is considered On Page SEO.
Ask yourself, are you providing real value to the end-user? Is your content easy to read? Are you sincerely helping the user? Are you engaging the end-user? Is your content worth sharing? If not, make the change immediately
Content Length? Do your webpages have at least 600 words on each page? Take a look at the top results on google for your industry. You may realize that many of the top pages have over 1000 words on each page
The goal is to make the content great for the users and great for the search engines. Quality content can engage your site with the audience. You have to make sure your content is accurate, authentic, original, and professionally presented.
Another SEO ranking factor includes webpage quality. Nowadays most searches are conducted by mobile devices than desktops.  
Is your website mobile friendly? Mobile-friendly sites provide a better user experience. Do you have a responsive design that adjusts and looks good on every screen size? If your site isn't mobile-friendly, you have the risk of getting under-ranked. This factor is important for both users and search engines.
How fast does your website load? Search engines prefer to show sites that will load quickly for users. Are your image sizes optimized? Is your code optimized? You have to make sure that your site loads quickly as slow loading sites provide a bad user experience.  Try speed checker tools to check your site's speed. Also check your pages bounce rate. If your mobile visitors have a high bounce rate it can signify that your page may have issues.  If your site is slow, you will have to take the necessary steps to speed up your site.
Check your Website Page Speed with Google Page Speed
Yes, length does matter. To clarify, domain age or how long your domain has been registered for, is a Google ranking factor. Older established domains tend to have better search engine rankings than new domains. This Google ranking factor cannot be controlled however your site can improve its ranking gradually with time. 
Targeted Keywords in the URL that matches and reflects your web page, can boost the ranking of your site. But you shouldn't create pointless URLs simply to include a keyword in them. 
The header tags range from H1 through H6. Think of Header Tags like the Chapters and Sub Chapters in a book.
H1 Tag – The H1 tag is the most import of the header tags. Ever hear the phrase, "there shall be only 1"? Well there shall be only 1 – H1 tag. The targeted key phrase of the web page should be included in the H1 Tag.
H2 – H6 Tags – These are like sub chapters in the book. You can have several of these in the web page. I recommend focus on a hierarchy structure.
H1 is the top 
H2s are below the H1
H3s are below H2s
On the left, we have an example of one of our actual pages so you can see the structure of our header tags. This is also considered on page SEO.
Other Important SEO Ranking Factors
7. Image Alt Text
Search engines can't read images. By adding alt text to the images, the search engines can read the information the describes the image
8. Robots Meta Tag
Very Important – Make sure that any webpage that you want visible to search engines have a robots meta tag with a "noindex". This will block the pages from the search engines. Also make sure that pages you want visible, don't have "noindex". If they do, your webpage may not show in the Google search results
9. Duplicate content
Do your best to not have duplicate content on your website
10. Internal links
Does your website have internal links that point to other web pages within your website?
11. Link Building
Link Building is a very effective way of increasing the external links to your website. Links pointing to your website (inbound links) is a valuable factor in where you rank on the search engine results pages (SERPS) deciding where to rank your web page. Increasing the number of links pointing to your web page can help your website rise in search engine rankings. This can be from website directories, vital search engines, and other websites within your industry.
Ask yourself, Does your website have hyperlinks from other websites to your website? Do you have hyperlinks from your social media channels? Please note that links pointing to your website that is of high quality will help. If you have links coming from low-quality websites, that may negatively impact your google search results. This is considered off-page SEO.
To summarize, the more quality links a website has the better it will rank. Quality and Quantity are the key criteria in link building.
12. Sticky Content
Sticky content is essential to attract users and keep them on your site. A sticky site is appealing and interesting. Users will stay and browse through your web pages looking for more information. Sites with sticky content will often rank higher than similar sites that are not sticky.
Here are Free SEO tools that can help you with your organic search results

Google Search Console – This is a free tool from Google that can help you find issues and help improve your search results
Bing Webmaster Tools – This is a free tool from Bing that is similar to Google Search Console.